Aiming to become a world-class investment group through cross-border investments
Mercuria Investment Group focuses on business opportunities that extend beyond nations, regions and established frameworks under the basic concept of "cross border", providing investors with various investment opportunities through its funds such as businesses with growth potential and assets with high profitability.
The core of the group, Mercuria Investment Co.,Ltd. manages alternative investment funds and seeks excess returns in low-liquidity sectors. We have established a foundation as a multi-strategy fund manager by establishing and operating diverse investment strategies such as growth investment, value investment, buyout/succession investment, real estate investment, and cash flow investment in line with the macro environment, as well as new funds based on those strategies.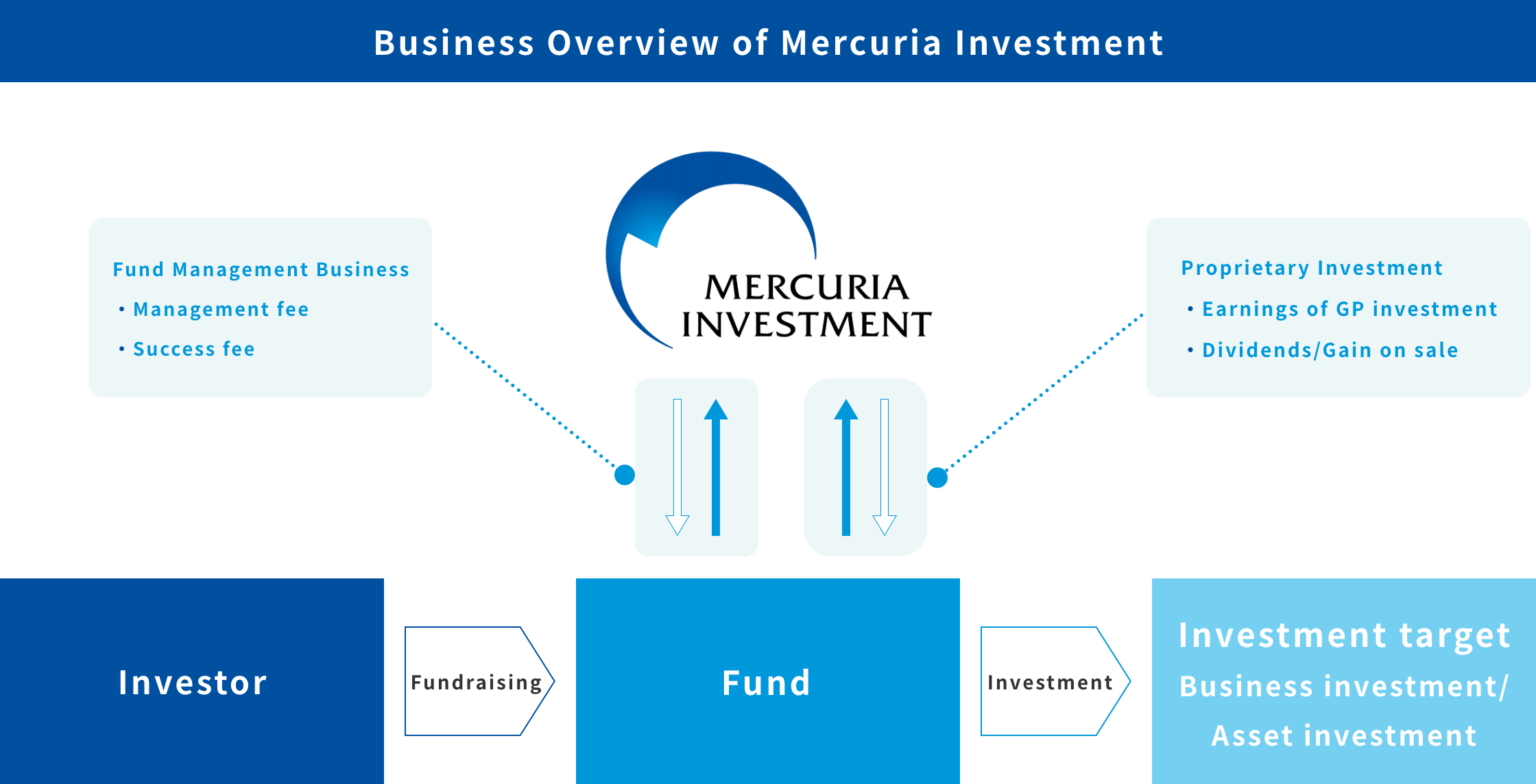 In addition, Spring Asset Management Limited (SAML), which manages and operates Spring REIT, a real estate investment trust listed on the Hong Kong Stock Exchange investments, has achieved successful results by targeting distinctive and fixed-use commercial real estate overseas.
Furthermore, Enex Asset Management is entrusted with the asset management operations of Enex Infrastructure Investment Corporation, formed with business partners including Itochu Enex Co., Ltd. and Sumitomo Mitsui Trust Bank, Limited and listed in February 2019, with the aim of steadily expanding its asset scale and generating stable cash flows, and makes investment decisions in infrastructure assets that are stable and predictable over the long term, such as renewable energy generation facilities.
Another characteristic of the Mercuria Investment Group is its commitment to quality investment management, even in its subsidiaries and affiliates, and its ability to create new solutions through the consideration of various investment strategies using its abundant planning skills.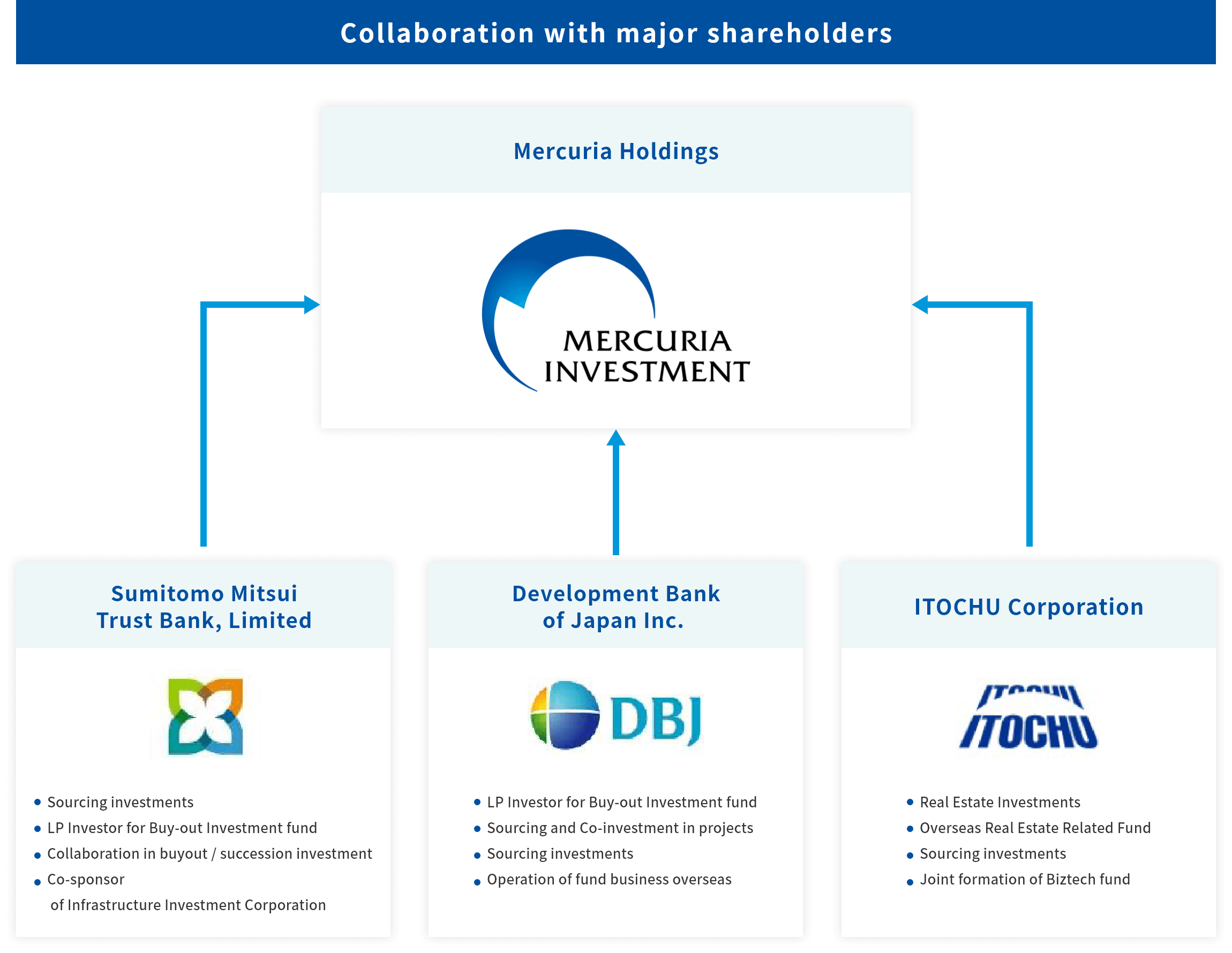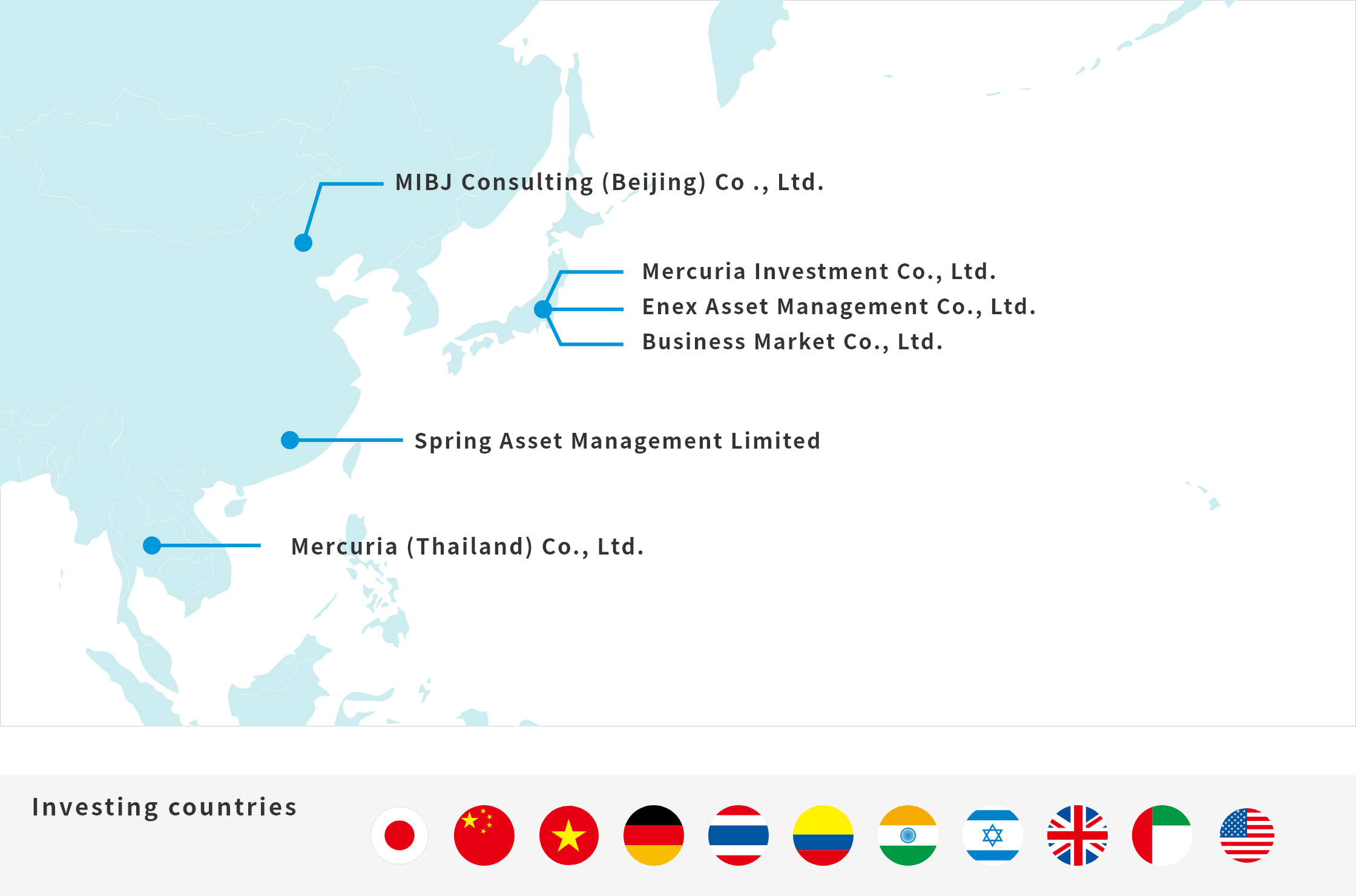 Mercuria Investment Group aims to become a world-class investment group, providing financial and business support to businesses and assets that fit the concept of "cross-border," and delivering investment returns to investors and other stakeholders. We will also return the investment profits to Japan and the world by establishing and managing financial products for investing in businesses and assets that generate stable and high profits overseas.
Mercuria Group's Investment Areas
Mercuria Investment Group offers two types of solutions to businesses and investors through its investments.
Business investment
We become equity holders of companies that are in the growth stage or succession stage, and work with their management team to raise their corporate value by considering business growth and the future, thereby increasing returns for investors.
[Investment Strategies] Growth investment/Buyout/succession investment/Value investment
Portfolio(Mercuria Investment Co., Ltd.):Corporate Investment
Asset investment
We focus on cash flow paid as compensation for the use of goods, build a system to ensure the receipt of that cash flow, and turn it into a financial product, thereby providing investors with stable returns.
[Investment Strategies] Real estate/Cash flow investment in aircraft leasing, infrastructure funds, etc./Value investment
Learn about Mercuria Group